Hello everyone and welcome to 2019. What a year 2018 was and at 7video we are all looking forward to the year ahead.
I'm always reading about the next best thing when it comes to media content and so I thought is was best to share some of my findings with you.
Why should video be part of 2019?
It is believed that the average person spends 45 minutes every day watching mobile videos online, and it is predicted that the internet will catch up with television in terms of hours watched in 2019.
I think we can see this around us with the amount of people watching their phones on the bus or in coffee shops.
Lets square things up
The widescreen format we all know and view on our TV's at home is reverting back to the traditional square or vertical format. This is due to Facebook and Instagram giving square videos a preference as they can occupy 78% more space and receives a higher percentage of engagement.
This means anyone planning on running video in a social media campaign needs to think about where it will be positioned and whether different formats or versions need to be produced.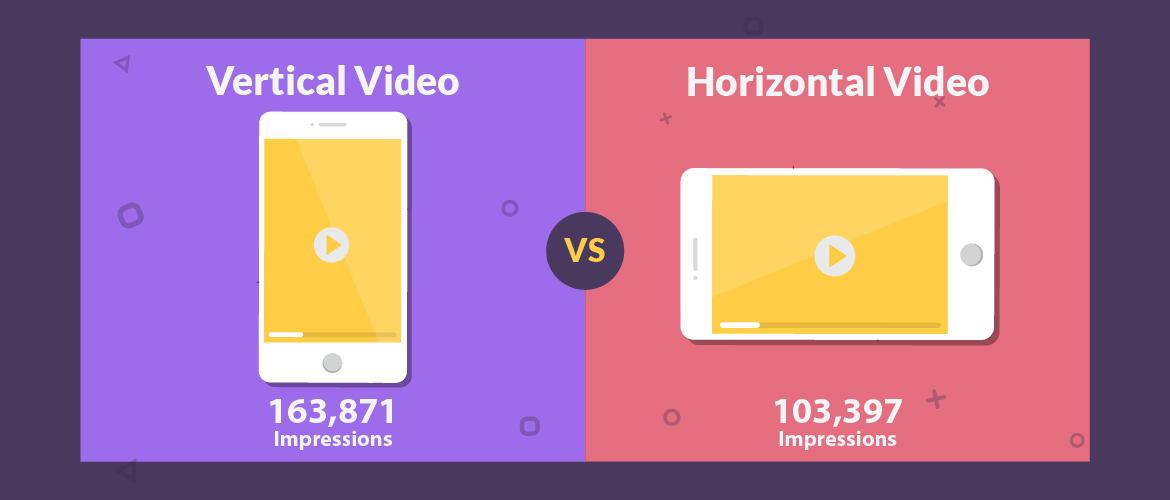 What's being produced?
The types of videos being produced has expanded. We all know that video is the best medium for telling a story, but videos don't only have to focus on selling and promotion to reap monetary rewards. Training or e-learning videos can benefit both clients and employees too.
With video being more accessible, training programmes can be shared easily while the information in quickly understood.
Other types of videos becoming more common include meet the team, how to and explainer videos, and the list goes on.
Ref: https://www.iabuk.com/events-training/video-trends-seminar-2019

Here a some interesting facts.
87% of marketers are now using video in their marketing campaigns. The below stats help explain why:
        19% increase in open rate when an email subject line mentions the word "video"

        80% percent increase in conversion rate when a video appears on a landing page

        90% percent of consumers say that video can help them make buying decisions

        4 times more buyers prefer to watch a video about a production than those who prefer just to read about it
As a result, the way companies use video has changed. They aren't merely using it to support other marketing materials. They are taking a video-first strategy by prioritizing video, based on the notion that people are growing accustomed to viewing, rather than reading, content.
Let's strategise
There was once a time when terms like "employee experience," "candidate experience," "customer engagement," and "employer branding" didn't exist.
Today, they are central to a company's internal and external communications strategies. Organisations now recognize that the strength of their brand—as well as productivity, satisfaction, and other key performance indicators—depends on cultivating strong connections with staff and customers.
Moreover, when companies first started using video, many focused on the what. That is, they aimed primarily to convey information. Today, organizations are making a shift to emphasize the why and how and who, creating fuller, richer stories to drive conversation and connection. And they are showing, not just telling, those stories with video.
Don't take our word for it
Web psychologist Liraz Margalit points out in Entrepreneur, "When we watch a video, we become immersed in it and create an empathetic connection with the screen. If you want your visitors to fall in love with your content, it makes sense to deliver it via video. That's because it's much easier for us to become emotionally attached to something we watch in a video than something we read in an article."
Ref: Vyond.com


So how long should a video be?
For some time we have been recommending videos be no longer than 2 minutes. With promotional videos what we actually find is people switch off after 60 second. So it does depend on the type of video you're producing. Something being discussed for 2019 is the legend of Vine and its six-second videos. There's no doubt this super-short format captured our attention, so it makes sense that it's finding new life in advertising.
For video makers and marketers, the push towards shorter content isn't a surprise. As competition for consumer attention increases, the demand appears to be for shorter, smarter storytelling. Thinking about your audience and what they actually want to know.
Ref: Shutterstock
Did you hear that?
Sound is a huge part of video, but did you know that 85% of Facebook videos are being watched without sound. So subtitles are an important addition to include.
Our final note
Whether you outsource video, or you invest in an internal team to customise your content, one thing is for sure – 2019 is the year to stop thinking of video as a passing trend, instead approaching it as an essential part of your marketing strategy.
So talk to us today and see how 7video can support your ideas and really bring them to life.
0844 576 3446, 01743 357111
peter@7video.co.uk
www.7video.co.uk